Manifesto
How people's attention flows on the web
The web is a social artifact.
Here is a selected collection of related items:
Brands gather communities around them. And where there are communities, there is a need for truth. And truth makes the best stories. The true storytellers need to live in brands, and they must practice the trade made special by journalism – telling the truth of your community, and helping them tell stories.
Terrifying yet banal writing by Douglas Crets about the contribution 'brands' can make to journalism and the art of telling a story.
"To truly serve the human need to know, brands need to step into this opportunity gap to hire writers and journalists. By eliminating marketing for the sake of marketing's goals, they need to become the new epicenters of human conscience…"
In the context of the rest of his post I'm not sure 'epicentre' was really the word Douglas was looking for. Instead of this dreadful hyperbole he could more usefully start by giving us a list of all the great communities brands have gathered around them so we could go check 'em out. As I said in this post, I don't think these communities exist.
"… consumers and brands melt into each other's spaces, because consumers are spending time with brands in an emotional way."
Where is this happening? Where is the evidence for this claim?
This quote highlights how marketers have co-opted the word community. People form communities with one another around shared interests. Brands are symbolic representations of non-human legal entities. They cannot by definition be part of a community. Don't make the mistake of believing a brand can be the central focus of a genuine community, unless very specific circumstances apply.
Let me know what you think on Twitter
We show that the problem is widespread - nearly one out of five reviews marked as fake, by Yelp's algorithm.
I enjoy reading research papers as they present findings alongside the evidence to support them, which makes a welcome change from posts on marketing blogs.
The fact that many submitted reviews are fake is no surprise; obviously there is ambiguity in regard to what is considered 'fake', but for the purposes of the paper Yelp's filtered reviews are looked at and assessed to also identify "the circumstances under which fraud is prevalent".
If we consider the links between web pages as votes, many members of both the Search Engine Optimisation (SEO) and Content Marketing industries could be considered as suppliers of fake 'reviews', that is to say material contributing to a more positive perspective of a page by affecting its position on a Search Engine Results Page (SERP). To my mind the intent behind the action is an important consideration as to its credibility.
This quote highlights how, whenever commerical interests are involved, there is a risk of people trying to affect perception by using underhand tactics. The purported benefits of social media in this case, e.g. the aggregated opinions of a large group of people who have used a product or service, can be undermined, leading to a loss of trust.
Let me know what you think on Twitter
When people really care
Further to my last post I thought it useful to contrast "the 3rd most engaged with UK brand on Facebook" with an issue people care about.
Frack Off's Facebook Page has been heavily focused on the protests at Balcombe. In early August the number of 'People Talking About This' was running at 240% of people who had 'Liked' the Page. Presumably many of those people have now Liked the Page as follower numbers are up, yet 'People Talking About This' still stands at a high 87% of total followers.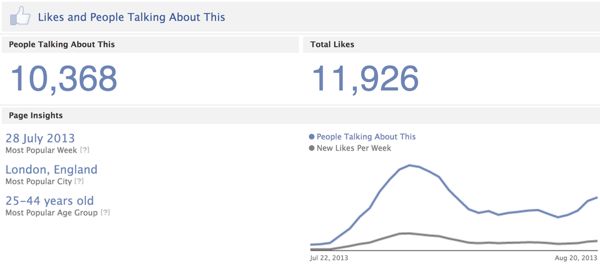 Compare this to Jaguar's Page. Many more people have 'Liked' the Page, over 2.2 million. 'People Talking About This' stood at 3% of those total 'Likes' on the day I checked. This is woeful but entirely typical of a 'brand' effort. Many of those interactions were coming from the Indian contingent that 'Like' the Page, whomsoever they may be.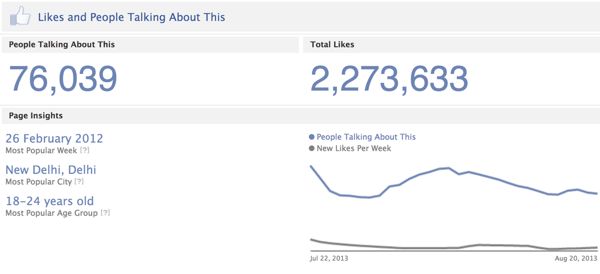 'Liking' a 'brand' is likely a signifier of something around personal identity that the individual wishes to represent. It does not appear to represent a desire for the elusive 'engagement' that marketers keep banging on about with little evidence of any success. People don't care about brands; they do care about issues. Brands are generally too bland and frequently too close to negative issues to be able to meaningfully interact with people on topics that are important to them.
Let me know what you think on Twitter
How many cars do you sell in New Delhi?
I get a strong sense that many marketing campaigns are about holding a mirror up to the business paying the invoice and murmuring complimentary things. I refer to this as 'The Emperor's New Clothes'; as long as the marketing department looks on-the-job it's in no-one's interests to ask awkward questions.
This presentation from 'We Are Social' about work for Jaguar is entitled 'engaging the right audiences'. This means by the end of the presentation the viewer should understand who the correct audience is and what is meant by 'engagement'. We Are Social divide the audience into people who are able and want to purchase a Jaguar and 'cheerleaders', an 'aspirational' audience of fans who can bring "enormous value".
In terms of 'understanding the audience' what is presented is not anything specific to Jaguar. "Strong visual content works best". This is a given. Across several sites I've worked on comprising some 1,000 plus posts I have found that those containing video content were five to seven times more likely to be clicked on and image content, where the image or images were the focus of the post, were three times more likely to be clicked-on than a text-only post. Likewise, the recommendation you ask questions on a platform that allows for a response is not an insight. Making the content thematically relevant is also generally a good idea! I expect to see more than a demonstration of common sense from someone delivering an analysis of paid-for work.
The other promotional work is all pretty standard-fare, if you have the budget. Tease the product launch, get a celebrity involved, sponsor something people like, e.g. a sport, offer a way of experiencing the product, and so on. What is left ambiguous is how 'We Are Social' were involved in actually creating this stuff. For instance, a Ridley Scott film to promote the car will pretty much generate interest all on its own. You don't need an agency to 'make this social'. Same goes for using Lana Del Rey. They have pop-cultural resonance, which is why you pay them a lot for the association. People will then talk about it anyway; what matters is how the perception of the association is shaped. That would have been interesting to read about.
However, perception is not measured in numbers of 'fans'. A statement such as "The 3rd most engaged-with UK brand on Facebook" is only relevant if the audience doing the engaging is going to buy the product or strongly influence people who might buy the product, as 'We Are Social' themselves identified. Facebook tells us that the most popular city that people are from who are active on the Page is New Delhi and that the most popular age group is 18 to 24 years olds. This is borne out by checking who 'Likes' each post. Now, perhaps this is due to Jaguar being owned by Tata but I leave you to draw your own conclusions about whether the 'right audience' has been 'engaged'. I would have been more interested if the increase in fans in Jaguar's target markets had been indicated, but I imagine the 'need for client confidentiality' would be cited. If I were Jaguar I'd be having a hard look at this. I don't see the "enormous value" here and the lack of evidence of subsequent sharing makes the definition of this as 'social media' debatable.
tl;dr The web makes it fairly easy to check out the claims people make. Don't take what is said at face value. If there is data available see whether there is a trend. If people are able to comment on something check how many comments have been made and what they say.
Let me know what you think on Twitter
It was all fantasies and delusions based on naive interpretations of consumer behavior by people who had a whole lot of ideological commitment to the web, and very little experience with real world marketing.
Spot on about the ideological commitment; see the faux-naive idea of markets as conversations for a whole lot more on what amounts to a neoliberal ideal that was very attractive to some.
What has struck me about working in the area of online marketing is both how much of my work is really about public relations and how much I had to learn given I had no prior experience in this area. What was also surprising was how traditional PR was actually based on very simple principles with a lot of meetings and handwaving to confuse the uninitiated.
The wider point in the post I quote from above is that the current vogue for talking about 'native advertising', hand-in-hand with the dread 'content marketing', is that it is a very traditional concept. The savvy individual should be aware by now that not only do people ignore display advertising it is a sector riven by fraud. However, in the search for an alternative that works the physicality of the medium is still ignored. The reason a magazine advert 'works' is that the medium requires me to physically turn a page and I expect to have to turn the pages to proceed: it is full-page. A television advert 'works' because I have no choice whether the advert appears in front of my eyes or not: it is full-screen. A billboard 'works' because it is large: it fills my field of vision. That said, I think people are sensitive to when a marketing message is dressed-up as something else.
tl;dr This quote highlights the failure of display advertising as a medium that works successfully on the web and the lack of a satisfactory solution; adverts masquerading as editorial are unlikely to work any more effectively and are in fact even more indirect.
Let me know what you think on Twitter