Manifesto
How people's attention flows on the web
The web is a social artifact.
Here is a selected collection of related items:
Native advertising done well.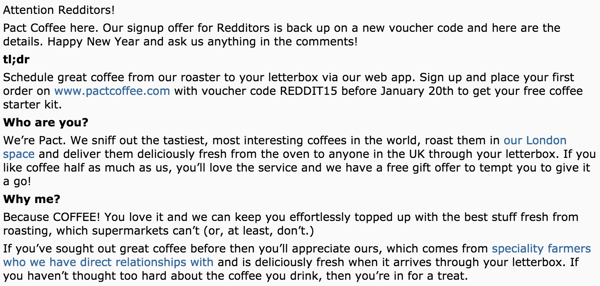 Few implementations of the form get it right. Here's one, which also appears on a platform where if you get it wrong, there will be consequences.
Pact Coffee first advertised on reddit last year. They attracted 1,247 comments and there are a number of really good interactions between redditors and Pact's account omfgcoffee.
They ran a second advert more recently which caused a few problems as new customers were being offered a very nice Hario V60 dripper – existing customers were a little aggrieved. Pact handled it well.
Their follow-up about their experience was a clever move; r/selfserve is the subreddit for people who want to advertise on reddit so sharing this is in the spirit of the community.
With the New Year they are back for more; I signed-up recently myself.
Clearly there are dimninishing returns in terms of interactions with other redditors but it would be interesting to know the amount of business this generated.
Responses like this are gold: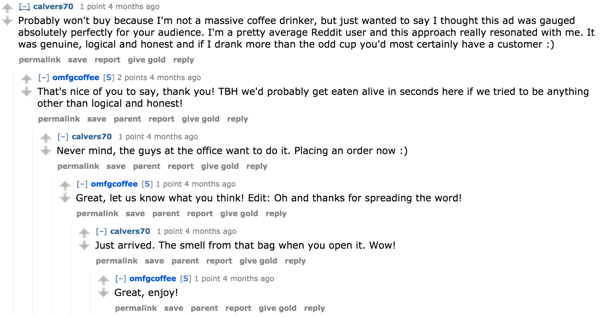 What I like about the most recent advert is how well it suits the platform. This medium suits Pact far better than a banner advert or a piece of advertorial ever would.
It's longform (for an ad)
In the right tone of voice
The offer is clear and direct
They say who they are and what they do
They focus on the benefits of their service
A nice touch is they reference the comments on their first very successful post.
Ultimately omfgcoffee is a redditor who is promoting what they do rather than Pact appearing as a brand using reddit for advertising. And that is the note you want to hit without lookng like you're trying to hit it.
Let me know what you think on Twitter
Digital is about reproducing something so it's exact. Media is about making something original.
The whole article I've taken the above quote from is great.
"BuzzFeed is a tech company. One which is wholly focused on aggregrating a mass audience. It has no other value beyond that."
I'd disagree that Buzzfeed have a mass 'audience' however. They have massive 'traffic' in the ephemeral sense of visitors coming and going but I wonder if this is an audience in the sense of people deliberately choosing Buzzfeed as a source of entertainment rather than just a place they end up on from a shared link.
Buzzfeed's visitors will be distributed on a very long tail so the usefulness to marketers to get their messages to people is minimal. However, it suits Buzzfeed that the industry thinks otherwise. Their content machine is a very hungry beast that needs constant feeding; if marketers pay to help it grow then this is to Buzzfeed's advantage.
On 'Vice':
"Their entire effort is to literally get themselves a cable channel. They've played an interesting game: They created a brand. They're not a tech company. They're a real, traditional media company."
Again, I wonder if this is sustainable? They'll have to keep the cost of producing original stories in check while the complexity of what they are doing increases.
Let me know what you think on Twitter
The company, like most brands venturing into content marketing, also struggled to articulate where a publication like SugarString fit in with the company's overall marketing goals.
Back in October I tweeted this:
Not. A. Clue. Another doomed corporate web publishing venture — this one from Verizon. They just don't learn: http://t.co/lER8OFwVM1

— Mark Higginson (@markhgn) October 29, 2014
I didn't expect it to fold so quickly. What is amusing is the assessment of why this happened by those with an interest in selling this idea to 'brands':
"If you're a media company, you're making a long-term commitment to build an audience, that's the difference between branded content and a content brand. They should have stuck with it."
That quote is from Joe Pulizzi of the inappropriately named 'Content Marketing Institute'. Of course he's going to suggest this type of work should be a long-term commitment. In actual fact the real question is why, given the number of popular tech news sites that are already in existence, run by media companies, a censored corporate version from a telecommunications business could hope to attract a readership.
"Verizon put the corporate agenda ahead of the journalism agenda, when that happens, it gets out, discredits and ultimately kills the publication."
So said Rebecca Lieb, an analyst at Altimeter Group. This is incorrect. Sugarstring had zero credibility to begin with and was never going to gain any.
The same goes for Dell's Tech Page One. Given the many other ostensibly independent choices available no one wants to visit a corporate clone. If no one is clicking then no one is reading or sharing and there is no likelihood of any contribution to sales. This is a waste of resources.
The quoted article mentions American Express' Open Forum as a long running example of a similar effort; this is a site I've previously mentioned as being one I'm highly doubtful of having a significant readership.
Back over at the Content Marketing Institute they have decided they know what Verizon should have done. In the comments on that piece someone has said:
"Comcast Business is building a growing business community of content sharing."
A cursory review of the Comcast Business Community site in Open Site Explorer reveals double-digit shares on posts and almost no incoming links. There is nothing going on here. Almost all of the posts have no comments.
Yet again content marketers are recommending activity that is provably ineffective.
Let me know what you think on Twitter
An incredible 56.1% of ads on the internet are not seen by humans.
Despite all of this advertising spending online continues to grow. The reason is that those ads which are seen generate a perceived return, based on the measurement criteria being used to evaluate performance.
"Bot fraud, digital advertising's albatross, will suck $6.3 billion from the industry next year."
"The total percentage of bot-related web traffic is actually down this year from what it was in 2013. Back then it accounted for 60 percent of the traffic, 4 percent more than today."
The Google research referenced in the headline quote can be found here.
Let me know what you think on Twitter
Working in coordination with Ad Block Plus, AdNauseam quietly clicks every blocked ad, registering a visit on the ad networks' databases.
While this extension does "obfuscate browsing data" I wonder if this is both a benefit to the user and a benefit to the ad networks. Given the industry suffers from widespread problems with click-fraud it doesn't seem that the quality of the data is the issue provided advertisers are still willing to throw money into display. More clicks across more areas of interest generating more data for 'targeting' is superficially good news. The accuracy is not something the networks are likely to shout about.
Given this extension requires AdBlock Plus and adblocking has gone mainstream if reporting consists of showing a chart that goes up it's in no one's interests within the marketing industry to look too closely.
5% of all internet users use adblocking software
Rising to 28% of US internet users
Rising to 41% of 18 to 29 year olds
Rising to 54% of males in this age group
This is incredible. Furthermore, in Europe anywhere up to 1-in-3 users are utilising adblockers with 15% of UK internet users availing themselves of this technology – especially among the more technically able where users who download and install an alternative browser are five times more likely to also use an adblocker.
The response from a marketer is predictably delusional:
"… successful ad campaigns for producers that are viewed as neither intrusive nor annoying by consumers… must involve such tactics as improving ad targeting, increasing the variability of ad content, and diversification across ad forms."
People's motivation is simple: they don't like advertising. Once an adblocker is installed they aren't coming back.
Let me know what you think on Twitter