Manifesto
How people's attention flows on the web
The web is a social artifact.
Here is a selected collection of related items:
There is no way these huge companies can provide the same intimate level of customer service that I can, especially since I don't have that many customers.
This article epitomises why I don't 'get' Yahoo.
Jerry Shen, who developed a fantasy sports app, cites the fact he responds immediately to customer enquiries as what differentiates him in the marketplace. That's how he wins recommendations.
"Large competitors like Yahoo and the NFL soon launched their own mobile fantasy sports apps, and Shen tried to think of ways he could differentiate his product. His solution: charm customers with great customer service, responding to any complaints within five minutes."
Yahoo has likely paid a lot of money to accquire his business. Jerry's apps are gone.
"He became a director of engineering at the tech giant, managing a team...."
Hell of an expensive way to recruit someone. Perhaps Jerry is much more talented than anyone else at creating these fantasy sports games so this will give Yahoo competitive advantage. But that isn't how the article portrays Jerry's success. It doesn't sound like Jerry will be doing customer service or that facet is part of Yahoo's plan.
Let me know what you think on Twitter
Part of Snapchat's success comes from its gradual shift from simply facilitating social interactions between friends to staking out new ground as a media platform.
As this article provides no verifiable data to support its claim I'm going to speculate wildly too: I don't think Snapchat's users will have any long-term interest in the new 'Discover' feature. It's more brand marketing fantasyland stuff.
"There's something about Snapchat that feels particularly intimate. Maybe it's the... knowledge that the video you're watching will disappear into the ether once it times out."
I'm not sure how 'intimacy' equates with advertising effectiveness. Snapchat's core feature is actually disadvantageous in the context of the web. Perhaps this awakens a nostalgic appeal in traditional advertising circles. Social platforms are generally ephemeral but at least there is the prospect of a link to a persistent item elsewhere on the web. In rare cases these become super-valuable as they accrue authority over time. The notion of creating content specifically for Snapchat's users that simply vanishes will no doubt appeal to agencies but has very limited value. It's a different thing entirely.
Let me know what you think on Twitter
Native advertising done well.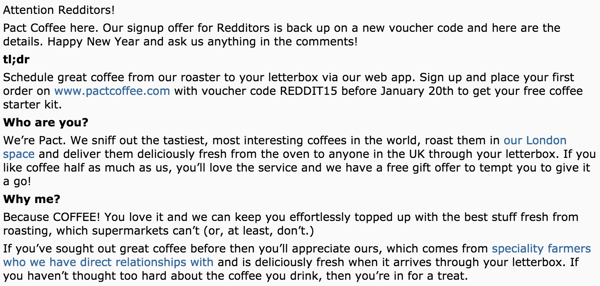 Few implementations of the form get it right. Here's one, which also appears on a platform where if you get it wrong, there will be consequences.
Pact Coffee first advertised on reddit last year. They attracted 1,247 comments and there are a number of really good interactions between redditors and Pact's account omfgcoffee.
They ran a second advert more recently which caused a few problems as new customers were being offered a very nice Hario V60 dripper -- existing customers were a little aggrieved. Pact handled it well.
Their follow-up about their experience was a clever move; r/selfserve is the subreddit for people who want to advertise on reddit so sharing this is in the spirit of the community.
With the New Year they are back for more; I signed-up recently myself.
Clearly there are dimninishing returns in terms of interactions with other redditors but it would be interesting to know the amount of business this generated.
Responses like this are gold: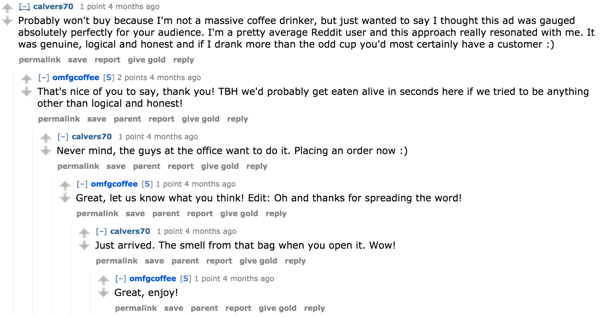 What I like about the most recent advert is how well it suits the platform. This medium suits Pact far better than a banner advert or a piece of advertorial ever would.
It's longform (for an ad)
In the right tone of voice
The offer is clear and direct
They say who they are and what they do
They focus on the benefits of their service
A nice touch is they reference the comments on their first very successful post.
Ultimately omfgcoffee is a redditor who is promoting what they do rather than Pact appearing as a brand using reddit for advertising. And that is the note you want to hit without lookng like you're trying to hit it.
Let me know what you think on Twitter
Digital is about reproducing something so it's exact. Media is about making something original.
The whole article I've taken the above quote from is great.
"BuzzFeed is a tech company. One which is wholly focused on aggregrating a mass audience. It has no other value beyond that."
I'd disagree that Buzzfeed have a mass 'audience' however. They have massive 'traffic' in the ephemeral sense of visitors coming and going but I wonder if this is an audience in the sense of people deliberately choosing Buzzfeed as a source of entertainment rather than just a place they end up on from a shared link.
Buzzfeed's visitors will be distributed on a very long tail so the usefulness to marketers to get their messages to people is minimal. However, it suits Buzzfeed that the industry thinks otherwise. Their content machine is a very hungry beast that needs constant feeding; if marketers pay to help it grow then this is to Buzzfeed's advantage.
On 'Vice':
"Their entire effort is to literally get themselves a cable channel. They've played an interesting game: They created a brand. They're not a tech company. They're a real, traditional media company."
Again, I wonder if this is sustainable? They'll have to keep the cost of producing original stories in check while the complexity of what they are doing increases.
Let me know what you think on Twitter
The company, like most brands venturing into content marketing, also struggled to articulate where a publication like SugarString fit in with the company's overall marketing goals.
Back in October I tweeted this:
Not. A. Clue. Another doomed corporate web publishing venture — this one from Verizon. They just don't learn: http://t.co/lER8OFwVM1

— Mark Higginson (@markhgn) October 29, 2014
I didn't expect it to fold so quickly. What is amusing is the assessment of why this happened by those with an interest in selling this idea to 'brands':
"If you're a media company, you're making a long-term commitment to build an audience, that's the difference between branded content and a content brand. They should have stuck with it."
That quote is from Joe Pulizzi of the inappropriately named 'Content Marketing Institute'. Of course he's going to suggest this type of work should be a long-term commitment. In actual fact the real question is why, given the number of popular tech news sites that are already in existence, run by media companies, a censored corporate version from a telecommunications business could hope to attract a readership.
"Verizon put the corporate agenda ahead of the journalism agenda, when that happens, it gets out, discredits and ultimately kills the publication."
So said Rebecca Lieb, an analyst at Altimeter Group. This is incorrect. Sugarstring had zero credibility to begin with and was never going to gain any.
The same goes for Dell's Tech Page One. Given the many other ostensibly independent choices available no one wants to visit a corporate clone. If no one is clicking then no one is reading or sharing and there is no likelihood of any contribution to sales. This is a waste of resources.
The quoted article mentions American Express' Open Forum as a long running example of a similar effort; this is a site I've previously mentioned as being one I'm highly doubtful of having a significant readership.
Back over at the Content Marketing Institute they have decided they know what Verizon should have done. In the comments on that piece someone has said:
"Comcast Business is building a growing business community of content sharing."
A cursory review of the Comcast Business Community site in Open Site Explorer reveals double-digit shares on posts and almost no incoming links. There is nothing going on here. Almost all of the posts have no comments.
Yet again content marketers are recommending activity that is provably ineffective.
Let me know what you think on Twitter